Factory LIMITED FLASH 60% Discount: Expires Midnight!
Powerful Herbal Relief For Your Lymphatic System

Lymphatic Drainage Ginger Oil is a natural relief for lymphatic drainage, edema, spider veins, and varicose veins. 100% extracted from the ginger root, improving your well-being by relieving swelling & pain with its warming and anti-inflammatory properties.
The 
answer to swollen Lymph nodes
, warmth from the main ingredient of ginger oil has remedial 
anti-inflammatory properties
 that 
soothe
 and help 
relieve
swelling and pain.
HOW TO USE: 
Soak 8-10 drops of essential oil added to warm water, soak for 15-20 minutes.
Foot Treatment: Apply essential oil to feet and massage until absorbed. Dry the towel.
Warming: Add 3~6 drops of essential oil in hot water, soaked in a towel and wring it out. Apply on the required part, repeat the above after the towel is cooled.
Massage: Apply essential oils to the skin, massage until the essential oil penetrates. The skin is reddish and can be dried with a towel.
Lymphatic Drainage Ginger Massage Oil is a great natural solution for lymphatic drainage, edema, spider veins, and varicose veins. 
FEATURES:
Reduce swelling

 from lymphedema, 

u

nblocking clogged lymph nodes

, which help with 

immunity.
Ginger oil active ingredient relieves 

swollen

 

glands

 

after

 

surgery 

or

 

injury 

and

 

inflammation
Reduce 

adipose tissues

 & 

fat cells
Said to 

stimulate

expulsion

 

of waste products & 

toxins
Containing a healing blend of herbal oil for your lymphatic health, it boosts detoxification and the removal of excessive fluids.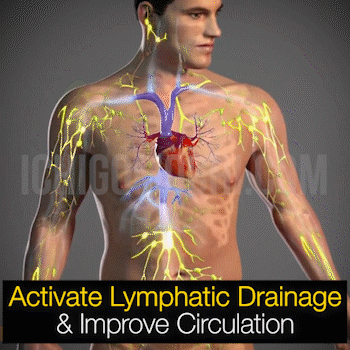 Swollen Lymph node
NaturalTherapy™ Ginger Oil is SUITABLE for everyone. It is RECOMMENDED also for ATHLETES to HELP them incase of BREAKDOWN and MUSCULAR PAIN.
It is PERFECT for MASSAGE and MEDITATION. The application of oil after a warm bath is highly recommended.
Specifications:
Active Ingredients: Ginger Oil, Ginger Root Extracts, Grape Seed Oil


Volume: 30ml

For external use only
 
PACKAGE INCLUDES: Choose your Bundle and Freebies
1x NaturalTherapy™ Or 2x NaturalTherapy™ Or 
3x NaturalTherapy™ Or 4x NaturalTherapy™ 


BUY MORE! SAVE MORE!